---
In this upcoming concert Tapestry Singers presents Anne Frank: A Living Voice, music inspired by an abiding faith in the future, love that opens our hearts, joy in the beauty of nature, and spiritual peace.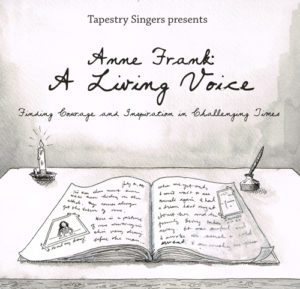 Young women from Bailey Chamber Singers and West Ridge Varsity Treble choirs will join Tapestry Singers for the Austin premiere of Anne Frank: A Living Voice.
A key portion of the concert uses the deeply reflective writings of Anne Frank in her World War II diary. While facing the darkest elements of human history, this brave young woman recognized and embraced an enduring belief in the goodness of humanity.
The concert will also include a variety of other songs celebrating hope and peace. As we sing we celebrate diversity, tolerance and our commitment to the ideal of realizing a just and peaceful world.
Another highlight of the evening will be Tapestry Singers awarding two $1,000 scholarships to two deserving graduating high school women pursuing higher education.
Anne Frank: A Living Voice
Saturday, May 6, 2017 – 7 pm
St. Matthew's Episcopal Church
---
Tapestry Singers (aka Austin Women's Chorus) is a welcoming, non-auditioned chorus for any woman who wants to sing. We celebrate each other as we joyfully create music that inspires us, our audience and our community. We welcome all singers, regardless of ability or confidence, to join our Monday night rehearsals or just to observe.