Tapestry Singers performs two concerts a year – a spring concert in April or May and a fall concert, usually in November. These concerts are held at venues such as St. Matthew's Episcopal Church, which offer outstanding acoustics, comfortable and accessible seating, and plenty of free parking.
In addition to our two main concerts, the chorus performs for various organizations around Austin on request and twice a year for patients at the Austin State Hospital. The Hospital generously donates our large rehearsal space and this is one way for us to give back to them for their gracious hospitality.
2017/208 Season
Anne Frank: A Living Voice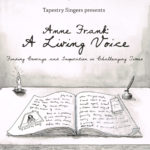 2016/2017 Season
Spellbound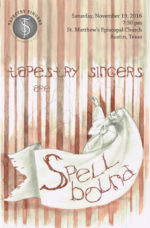 Join us for an evening of enchantment!
Saturday, November 19, 2016 7:30 PM
St. Matthew's Episcopal Church
A Living Voice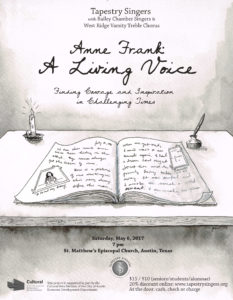 Join us for music inspired by an abiding faith in the future, love that opens our hearts, joy in the beauty of nature, and spiritual peace.
Saturday, May 6, 2017 7:00 PM
St. Matthew's Episcopal Church