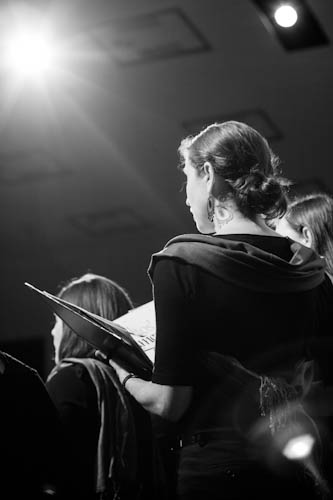 In 1987, Tapestry Singers began as the brainchild of Ruth Huber as a way to bring women together to celebrate their heritage and for the pure enjoyment of singing. Women from all backgrounds, all lifestyles, and all areas of the city came together once a week to laugh, to support, and to sing their hearts out! In those first days, the chorus performed at every opportunity, whether informally or by invitation for other organizations.
Just 4 years later, in 1991, the chorus performed at Texas Sing Out, Austin's first Mostly Music Marathon, and at the National Women's Chorus Festival in Houston. With so many chances to spread the cause and voice of Tapestry, our fame began to grow and the chorus produced its first exclusively Tapestry concert.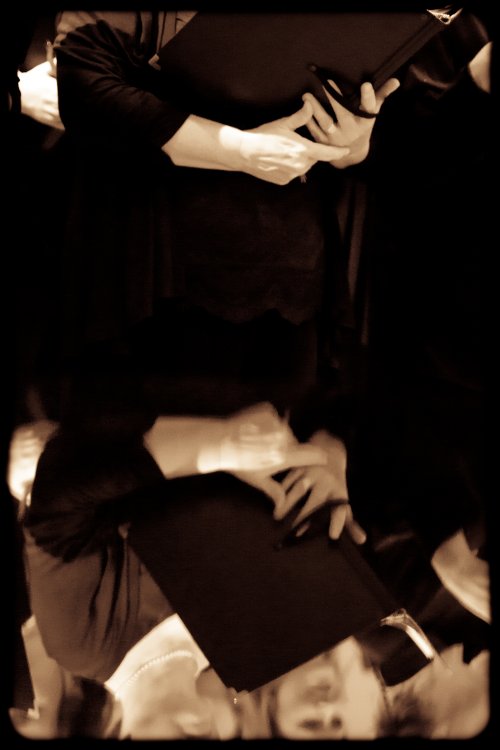 Tapestry has always tried to include a variety of music in its repertoire – from songs written by Tapestry members to songs about "she-roes" to lighthearted humor about nature and growing old to more serious works about freedom, heartbreak, love and life. Former Artistic Directors Ruth Huber and Nell Manycats and former member Azrael contributed many songs in the early years, and Tapestry has benefited from their early vision and grown in many ways since then. In the fall of 2000, Tapestry recorded our first CD of original music. "Our Songs…Our Voices" is a tribute to all of the women who have sung, still sing or will sing with the Tapestry Singers (no longer available). In June 2012, Tapestry recorded our second CD, "New Day" as part of our 25th anniversary season celebration (sold out).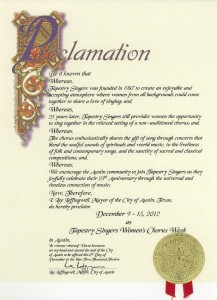 Through the years, Tapestry has joined forces with many talented musicians from the Austin music community, including The Therapy Sisters, Sara Hickman and Terri Hendrix. In March 2007, Tapestry Singers, The Alamo City Men's Chorale and Texas State University Chorale and Singers united to perform Maurice Durufle's Requiem in concert both in Austin and in San Antonio. In October 2007, Tapestry celebrated our 20th anniversary with a special concert that reunited our chorus with our founding mother, Ruth Huber, as guest director. For our November 2011 concert, Tapestry was presented with the opportunity to showcase the abilities of one up and coming composer by performing the world premiere of "The Maiden on the Shore," by Sam Hooper, a talented young man now attending the Shepherd School of Music at Rice University. In May 2012, Tapestry fulfilled a five-year mission to honor the memory of a much beloved sister singer by commissioning and performing the world premiere of "One Sister Have I In Our House" by Larysa Kuzmenko. Later that same year, we were honored by the City of Austin with a proclamation that Dec. 9-15, 2012 was Tapestry Singers Women's Chorus Week. And in May 2013, Tapestry invited Hilde Girls, SoCo Women's Chorus and Women of Heartsong to join us for The Austin Women's Chorus Festival, where we wrapped up our 25th anniversary season celebration by awarding our first music scholarship to talented local high school senior Annalisa Taylor.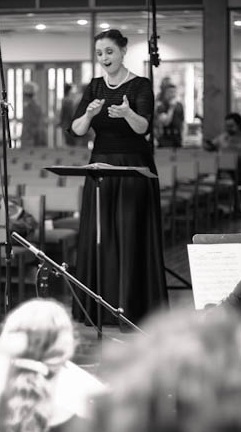 Over the years our past Artistic Directors Ruth Huber, Nell Manycats, Vicki Schmidt, Nicki Kiner, Anne Schelleng and Holly Dalrymple contributed to Tapestry′s growth and vision by lending us their invaluable talent, spirit and insight into the power, strength and healing aspects of song. In July 2010, Tapestry was delighted to welcome our current Artistic Director, Jenn Goodner, to help us continue to provide women in the Austin area a place to join together in song.
In all our efforts, Tapestry seeks to fulfill our mission of being a welcoming, non-auditioned chorus for any woman who wants to sing. We celebrate each other as we joyfully create music that inspires us, our audience and our community. One concert will show that we love what we do and we love to bring women and their voices to the forefront of the community!