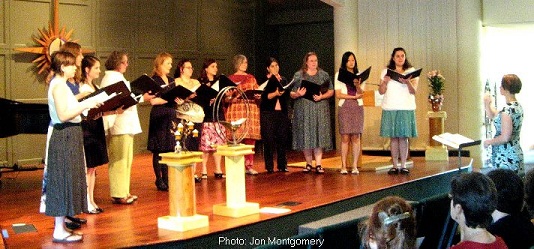 We also have a smaller auditioned group, known as "Loose Threads" from our Tapestry. Loose Threads is a subset of Tapestry Singers, consisting of 12-16 members. Members of Tapestry Singers may audition for openings in Loose Threads as they become available.
Loose Threads is available to sing at your next wedding, party, fundraiser or any other event. Our repertoire spans musical styles, periods and cultures and we can perform songs from our current stock of Tapestry favorites or songs of your choosing, as long as they are available in three or four part treble arrangements.
We have performed for the Breast Cancer Resource Center's Annual Champagne and Brunch, the Junior League's A Christmas Affair, ME TV's Girl Start Anniversary fundraiser, and Pioneer Farms Candlelight Christmas Tour, as well as private holiday parties, weddings and church and memorial services.
Booking fees and availability vary depending on the specifics of the event, including the date and time of the event and length of performance. Rates are discounted for non-profit and charity organizations. Contact us at info2sing@tapestrysingers.org for cost estimate and availability.