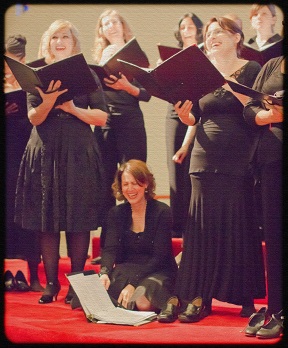 A quote from one of our members:
"When I walked into rehearsal, I knew I would sing. I knew someone would lead us. I didn't yet know that I had come home."
We always welcome visitors! If you have any questions, please drop us a line at info2sing@tapestrysingers.org.
All performing members must have joined the chorus no later than six weeks before a concert. Members joining after that time are encouraged to attend rehearsals and become weavers and help at the concert.
Rehearsals are on Monday evenings from 7–9pm at the Chapel on the grounds of the Austin State Hospital at:
4110 Guadalupe
Austin, TX 78751
( map )
Directions:
Enter the Austin State Hospital grounds from the light on Guadalupe across the street from New World Deli. Once inside the grounds, follow the signs to All Faith's Chapel. This will have you take the first right, follow the road to the left, then left at the stop sign and then left again into the parking lot. There will most likely be other cars in the lot. As you are entering the lot, the chapel where we rehearse is on your right. It has a painted wall with a colorful mural facing the parking lot. PLEASE OBSERVE POSTED SPEED LIMIT.